Motherhood: Meaning of life with Kirianna from @rileys_travels
Being a Mum is one of life's biggest adventures and we're forever inspired by the Mum's out there in our community who are taking on the escapades of life with their small humans in tow.
From travelling around Australia (twice) in a Kombi to finding home in New Zealand, Kirianna from @rileys_travels is the perfect muse when it comes to adventure mum.
We had to know more about life on her biggest adventure, being a mumma to 3 of the most incredible cubs we know.
TELL US ABOUT YOUR FAMILY?
Thank you for having us apart of your Mothers Day Celebration. I am mumma of 3 beautiful children Riley 6, Alba 3, and Elsie 8 months with my hubby Lockie. We love to travel slow in our little kombi Izzie. After a few fun years exploring Australia we have shipped our life to New Zealand to connect with my family and roots. We love to catch and cook and spend our evenings around the fire especially during a beautiful sunset.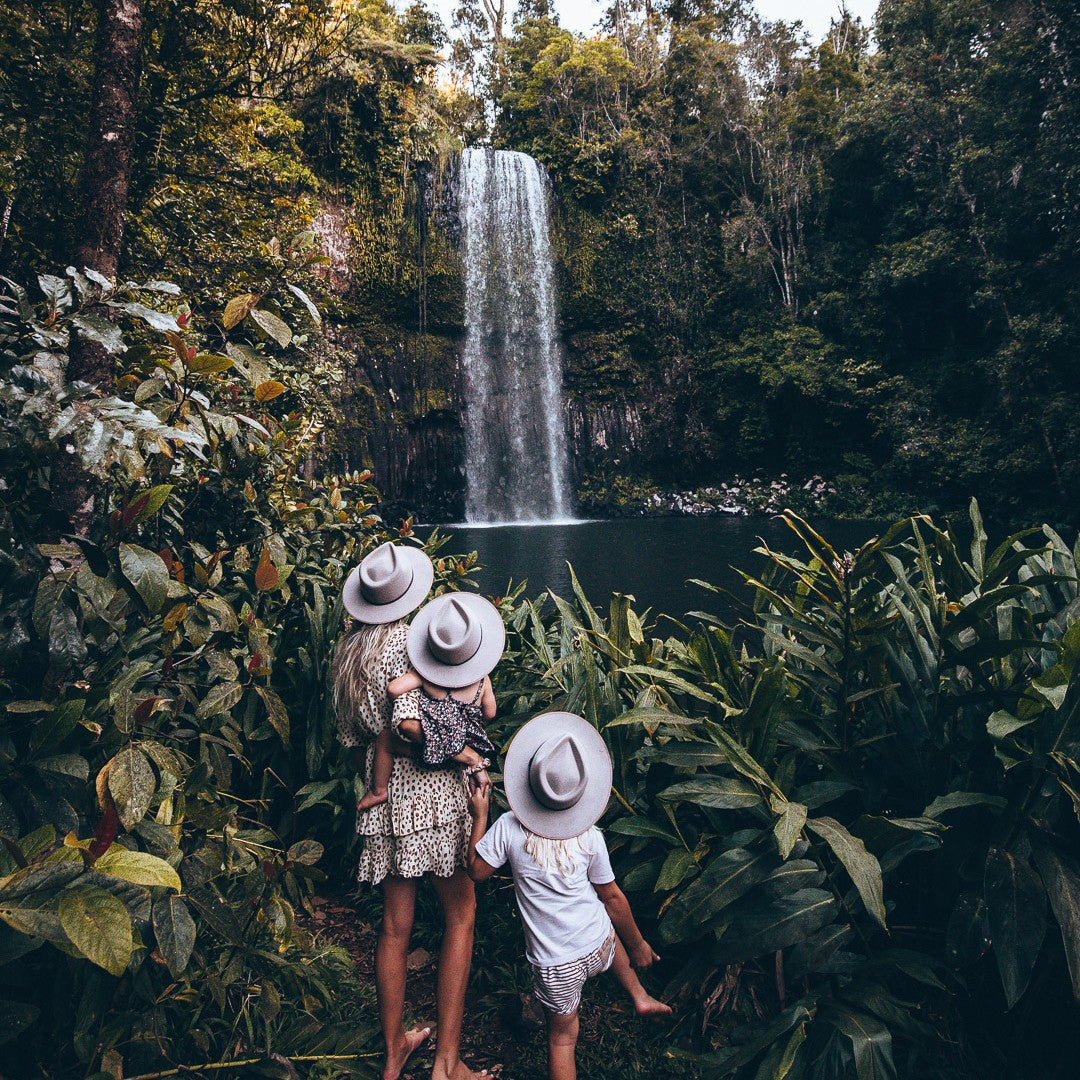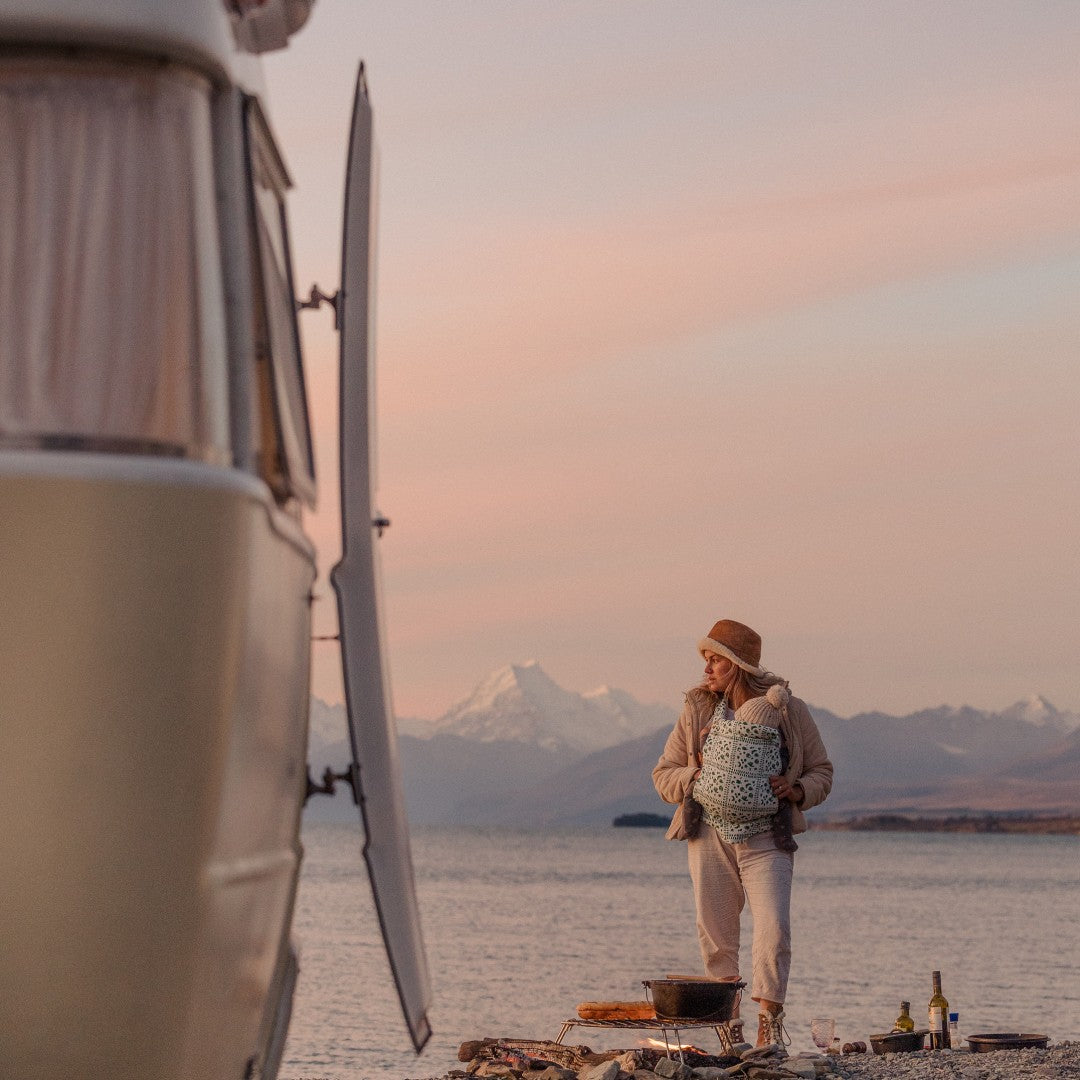 HOW LONG HAVE YOU BEEN ON THE ROAD TRAVELLING?
We have been travelling Australia since 2018 when we purchased our kombi "Izzie". Back then it was just us and our son Riley – we created our Instagram in his name to merely share his experiences with our family in Australia and New Zealand. By 2020 covid had given my husband a sabbatical, we packed the kombi once again and this time with no end date. Now 2023 and two extra babes we are travelling not only Australia but now NZ in our kombi and caravan. 
WHAT HAVE BEEN SOME OF YOUR FAVOURITE MOMENTS ON THE ROAD?
Our favourite memories are the milestones of our children. The first time they saw Uluru and walked through the Chasm in the Bungle Bungles. We all loved swimming with whale sharks and catching mud crabs together. We loved Arnhem land very much and have a severe soft spot for tassie but coming home to show our children my home country New Zealand has been a real highlight.
IS THERE A PARTICULAR DAY OR ADVENTURE THAT STANDS OUT AS A CORE MEMORY FOR YOU?
Yes, it would be the travelling to the Tiwi islands for Riley's 5th birthday. It was an incredible place that we all loved very much and will be a trip we will always remember.
AND BECAUSE WE ALL KNOW MUM LIFE ISN'T ALWAYS THE BLISS WE HOPE FOR, WHAT IS THE HARDEST THING ABOUT TRAVELLING WITH THE KIDS?
I would have to say packing. As there is now five of us we need to bring quite a lot of gear and our setup is definitely one where weight is an issue so we are always trying to reduce. Our children have really been a dream and have lived their whole lives on the road, they have adapted so well to this crazy whirlwind we call life.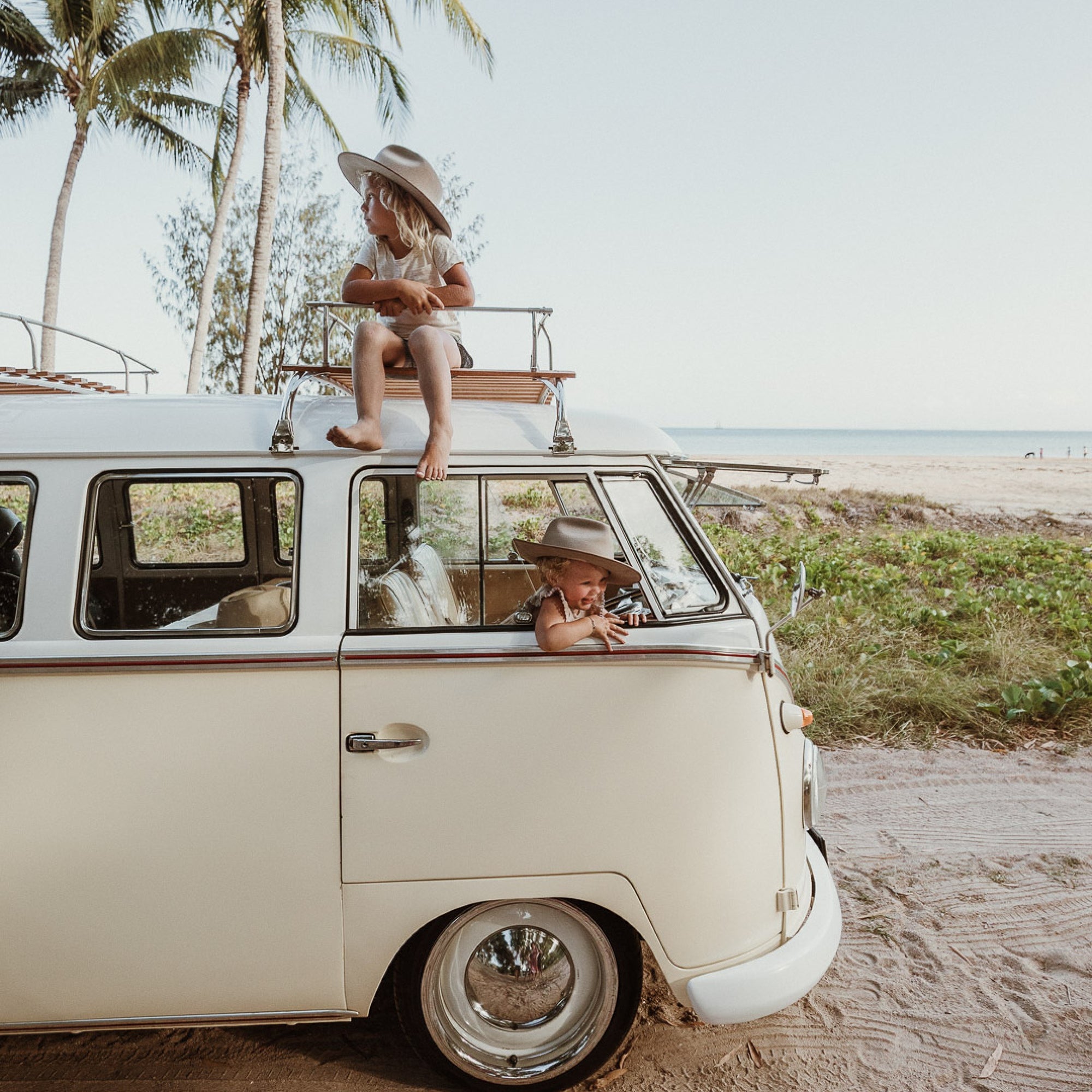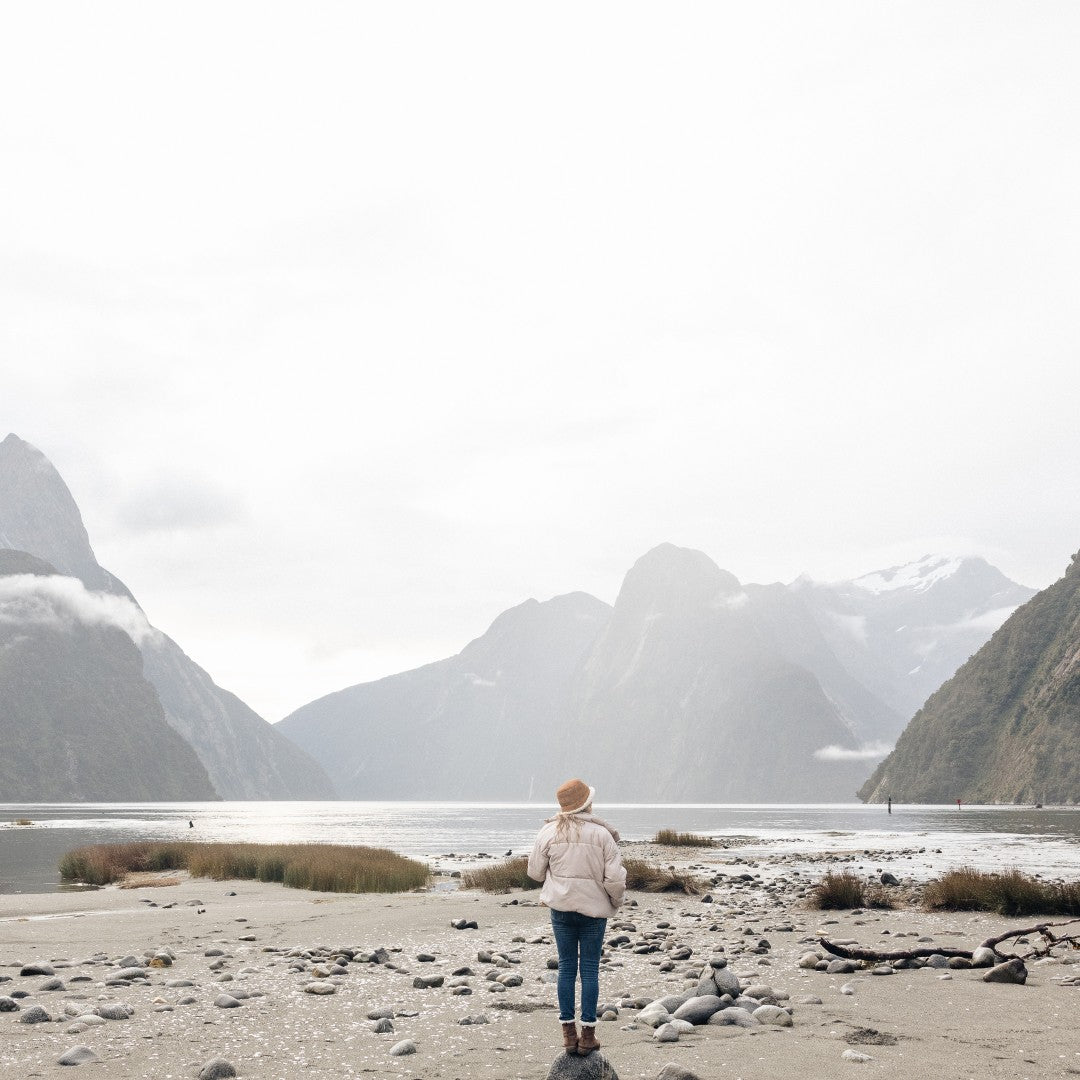 WHAT ARE YOUR TOP 3 TIPS FOR TRAVELLING ON THE ROAD WITH KIDDIES?
Slow down, stop in the little towns and enjoy every moment. It's so special to be able to spend so much time with our kids so we try and always remember that no matter how hard life can seem at times. We are so grateful for this journey and every single day we get to keep doing it.
COMING UP WITH DINNER IDEAS CAN SOMETIMES BE HARD AT THE BEST OF TIMES, DO YOU HAVE A GO-TO MEAL THAT YOU COOK FOR THE FAMILY WHILE YOU'RE ON THE ROAD?
I am the biggest lover of a plate-less meal, so we are partial to tacos, wraps and rolls. My kids are Japanese obsessed though so we definitely love Karaage chicken or okonomiyaki on the campfire.
WHICH WILL & BEAR HATS DO YOU AND THE KIDS NEED WHILE YOU'RE ON THE ROAD?
Oh my gosh between the kombi and caravan we carry so many with a dedicated hat wall in our caravan. But my favourites would probably be the Calloway Cream, and Andy Oak. 
Alba loves her Little Woodley Moss and Elsie looks uber cute in the new baby ugg
Riley's must is the Little Fisher Bucket
ARE THERE ANY OTHER MUM'S OUT THERE WHO INSPIRE YOU?
There are so many mammas out there just nailing business with little people in tow and I get great inspiration from them particularly Sharnee from Wanderingfolk. 
HOW WOULD YOU DESCRIBE MOTHERHOOD IN 3 WORDS?
Meaning of Life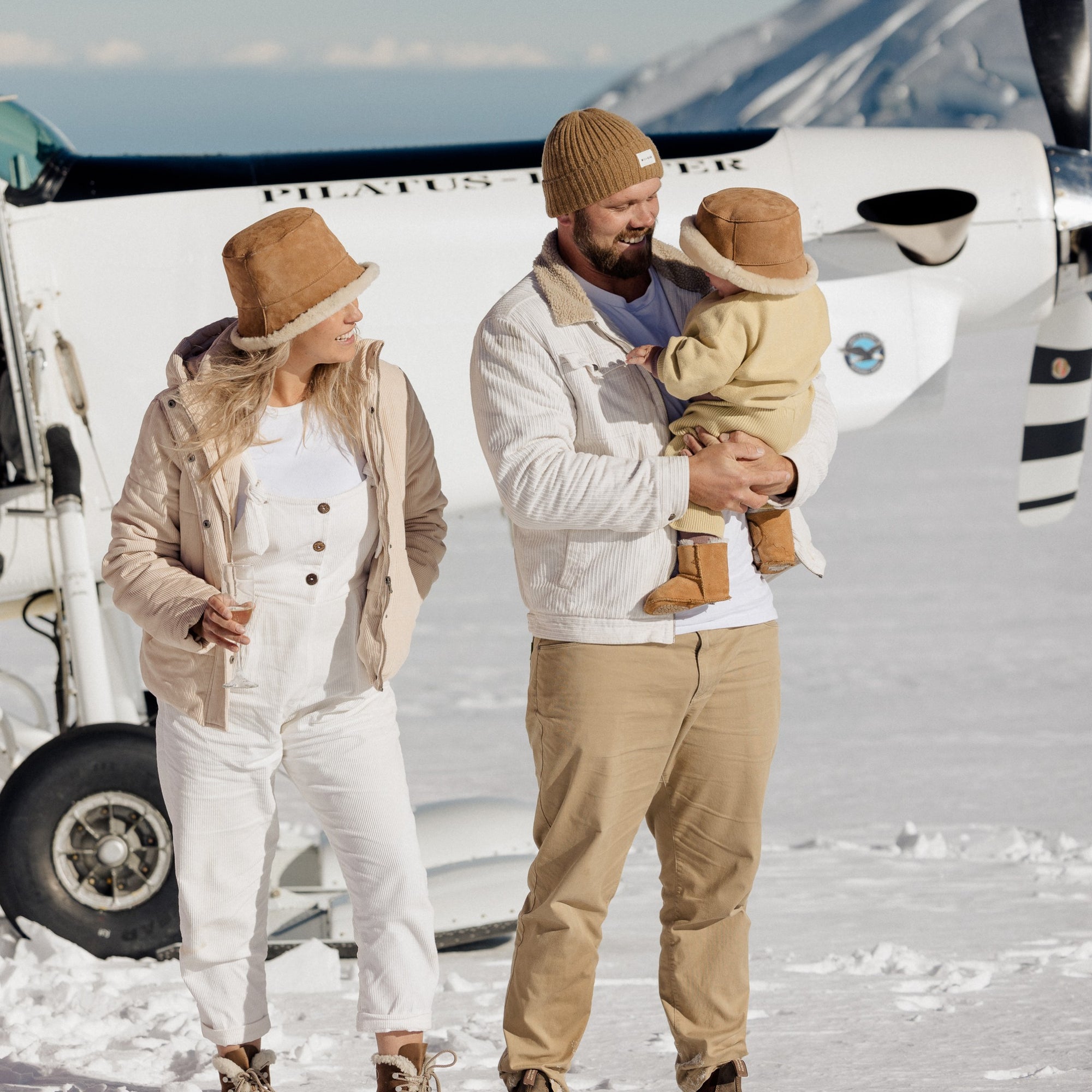 Need a gift for Mom?
Shop our Mother's Day Gift Guide!
SHOP NOW
You might have spotted some new styles coming very soon, including our Teddy Chestnut Sherpa bucket hat! We can't wait to share this new style and the story behind it with you all.
In the meantime, you can check out the Teddy Chestnut product page on the link below, and sign up to be the first to know when it launches!